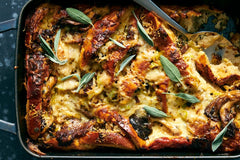 Ingredients
Yield: 6 to 8 servings
1

ounce dried porcini mushrooms

2tablespoons Mushroom & Sage Olive Oil

1tablespoons unsalted butter, plus more for greasing the pan

½

pound mixed fresh mushrooms, such as cremini or shiitake, trimmed and sliced ¼-inch thick

4fresh sage leaves, thinly sliced, plus more for garnish, if desired

2

small shallots, halved and thinly sliced

2

tablespoons cognac (optional)

1 1/2 teaspoons kosher salt, plus more to taste

Black pepper

3

large leeks, white and pale green parts only, halved lengthwise, thinly sliced and well washed

6

large eggs

1½

cups heavy cream

1½

cups whole milk

¼

teaspoon ground cayenne

2

ounces grated Gruyère (about 1 cup)

12

ounces brioche (or 4 to 6 large brioche buns), cut into ½-inch thick slices

1

ounce finely grated Parmesan (about ½ cup)
Preparation
Step 1

Boil 1 cup of water in a small saucepan. Add the dried porcini mushrooms and soak until softened, about 15 minutes. Using a slotted spoon, transfer the mushrooms to a cutting board and finely chop; set aside. Carefully pour remaining mushroom liquid into a large bowl, leaving any grit behind.

Step 2

In a large (12-inch) skillet, heat 1 tablespoon oil and 1 tablespoon butter over high. Add fresh mushrooms and cook, stirring occasionally, until browned, about 8 minutes. Lower heat to medium. Add sage, shallots and chopped porcini, and cook, stirring, until shallot is translucent, 3 to 4 minutes. Add cognac, if using, season to taste with salt and pepper and cook, stirring, 1 minute more. Transfer to a plate.

Step 3

In the same pan, heat 1 tablespoon oil over medium heat. Add the leeks and a pinch of salt and cook, stirring, until wilted, 5 to 7 minutes. Return the mushroom mixture to the pan and stir to combine with the leeks. Remove from heat.

Step 4

Add eggs to the large bowl with the mushroom liquid, and whisk to blend. Add cream, milk, cayenne,1 teaspoon salt and plenty of black pepper. Whisk thoroughly to combine, then add the Gruyère.

Step 5

Grease the bottom and sides of a 9-by-13-inch baking dish with butter, then add about ¼ of the fresh mushroom mixture and arrange in an even layer. Arrange the bread slices on top in an overlapping pattern. Sprinkle the remaining mushroom mixture over top, tucking it in between the bread slices. Ladle the custard mixture over top, evenly distributing the cheese. Refrigerate, covered, overnight (see Tip).

Step 6

When ready to cook, remove the dish from the refrigerator about 30 minutes before baking. Heat the oven to 350 degrees. Top the pudding with Parmesan and bake for 40 to 45 minutes until set in the center (it may puff a bit). Run it under the broiler for 2 to 3 minutes to brown the top, watching carefully. Let sit 10 minutes, then serve warm, topped with additional sage if desired.
Tip
If you don't have time to soak overnight, let sit for at least 15 minutes, pressing down on the bread from time to time to encourage absorption. Before baking, tear into a piece of bread to make sure the custard has fully permeated it — the bread shouldn't look dry at the center — and let sit another 15 minutes, if needed, to allow the custard to fully soak in. Decrease the cooking time by 10 to 15 minutes.
*Recipe adapted and modified from Susan Spungen's Mushroom Bread Pudding recipe, New York Times Cooking