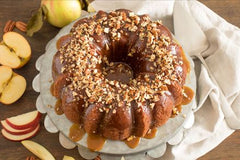 serves 4-6
Ingredients:
Batter:
2 cups granulated sugar
1 cup Butter Flavored Olive Oil
2-3 eggs
1/2 cup buttermilk
3 teaspoons vanilla extract
3 cups all-purpose flour
1 teaspoon salt
1 teaspoon baking soda
1 teaspoon cinnamon
1/4 teaspoon nutmeg
1/4 teaspoon cardamom
1/4 teaspoon ground ginger
2 granny smith apples, cored and diced
Caramel Topping:
1 cup granulated sugar
1/4 cup Granny Smith Apple Vinegar
2 tablespoon salted butter
2/3 cups buttermilk
2/3-1 cup pecan halves, chopped
Instructions:
Preheat oven to 350°F. Lightly oil a bundt pan, making sure to get into all the nooks and crannies. Combine sugar, olive oil, eggs, buttermilk and vanilla in the bowl of a stand mixer fitted with the whisk attachment. Blend until combined. Add dry ingredients to the bowl (flour, baking soda, cinnamon, nutmeg,
cardamom and ginger) and whisk to combine the batter. Pour batter into the prepared bundt pan and place in the oven. Bake for 35-45 minutes or until the cake is cooked through. While the cake is baking, combine sugar and vinegar in a heavy bottom saucepan. Stir mixture and bring to a boil over medium-high heat. Cook sugar for 10 minutes and remove from the heat. Add butter and buttermilk (be careful, the mixture will bubble) and whisk to combine the caramel sauce. Set aside to cool (just to room temperature). Once the cake is done, let cool for 30 minutes. Drizzle caramel over the cake and top with pecans before serving.