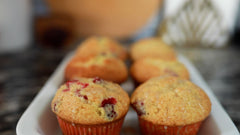 Makes 1 dozen muffins   
Ingredients: 
2 ½ cups all-purpose flour, sifted 
4 teaspoons baking powder 
½ teaspoon salt 
1 ¼ cup sugar 
2 eggs 
½ cup milk 
¼ cup orange juice (fresh squeezed) 
¼ cup blood orange flavored olive oil
¼ cup butter flavored olive oil  
1 teaspoon vanilla extract 
1 ½ cup fresh frozen cranberries 
2 teaspoons cranberry pear white balsamic vinegar 
3 tablespoons powdered sugar 
  
Directions:
Pre-heat oven to 425°F.  Prepare muffin pan with paper muffin cups and spray with nonstick cooking spray.   
In a medium mixing bowl, sift flour, baking soda and salt and set aside. 
In a large mixing bowl, whisk together the sugar, eggs, milk, orange juice, vanilla, blood orange and butter flavored olive oils.  Slowly stir in the dry ingredients until just mixed, then fold in the cranberries.  Divide the batter evenly into the prepared muffin cups.   
Bake at 425°F for 5 minutes, then reduce the oven temperature to 375°F and bake for another 15-18 minutes or until a toothpick inserted in the middle comes out clean.   
Optional: To make the cranberry icing, sift powdered sugar into a small bowl and mix in 2 teaspoons of cranberry pear white balsamic. Drizzle on slightly cooled muffins. Enjoy! 
Note: To make these muffins with fresh cranberries, adjust cooking time to few minutes less.