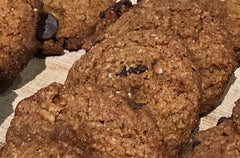 Recipe Courtesy of Sabrina Najarian - Health Coach Specializing in Integrative Nutrition
Olive oil Chocolate chip mac nut cookies:
1 cup butter olive oil, 1 Tablespoon vanilla extract, 3/4 cup coconut sugar, 1/2 cup pure maple syrup, 1 tsp sea salt, 1 large egg, 1 cup coconut flour, 1 cup almond flour, 1/2 tsp baking soda, 1 - 2 cups choc. chips, 1/2 cup crushed mac nuts or your favorite nut.  Can leave nuts out.    Directions: Preheat oven to 350 degrees.  Line cookie sheets with parchment paper. In a large mixing bowl add oil, vanilla, sugar, syrup, and salt.  Mix well till smooth. Add in egg and mix well.  Add in flours and baking soda. Incorporate well. Fold in choc. chips.  Roll small balls with your hands or I use a small scooper and place 2 inches apart.  Flatten less than half way down.  (Sometimes I don't and they come out just fine.)  Bake for 15-20 minutes or until edges are nicely browned and crispy.  Let them rest for 5 minutes on the cookie sheets than transfer to a cooling rack.