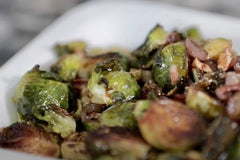 Oven roasting Brussels sprouts is a simple and satisfying way to enjoy these little green gems.  Layering in extra rich bacon flavor with a healthier option like our bacon flavored olive oil is a great way to add depth of flavor without all the saturated fat of cooking in bacon fat or butter.  In about 20 minutes your sprouts will be caramelized and tender with crisped edges, shallots, and studded with flecks of pancetta and crunchy pecans.  A drizzle of our maple balsamic sends the flavors over the top with the perfect balance of salty and sweet.
4 side dish servings
 
Ingredients
12 ounces Brussels sprouts, trimmed and halved
1 medium shallot, thinly sliced
1 ounce diced uncured pancetta
1 ½ tablespoons bacon flavored olive oil
1 tablespoon bourbon maple dark balsamic vinegar 
1 tablespoon finely chopped pecans
Kosher sea salt and fresh cracked pepper to taste
 
Directions
Preheat oven to 425° F.  Scatter the Brussels sprouts, shallots, and pancetta evenly on a half sheet pan.  Drizzle with 1 tablespoon of the olive oil and season with salt and pepper.  Place sheet pan on center rack and roast for 10 minutes. Check and toss the Brussels sprouts on the pan and set back in oven for 5-10 more minutes until slightly caramelized and fork tender.  Drizzle with balsamic sprinkle with pecans and let roast for a couple more minutes before taking out of the oven.  Transfer to serving dish and check seasoning adjusting for more salt or pepper to taste.  Drizzle with remaining oil and vinegar before serving. Enjoy!
*Note:  If you don't have our maple balsamic yet but can't wait to try this recipe, you can add a couple of teaspoons of real maple syrup to traditional balsamic as a quick substitution.  Also, this dish can be made vegetarian by omitting the pancetta and replacing the bacon olive oil with our vegan butter flavored olive oil or our garlic flavored olive oil.