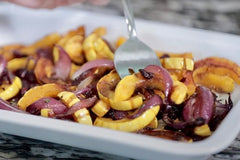 Oven roasting squash is one of the easiest ways to bring out the nutty flavor and sweetness of winter squash by creating caramelization while maintaining a moist and tender texture. You can substitute the Delicata squash with your favorite winter squash or sweet potatoes, but we chose the Delicata because it is so cute, and the skin is tender enough to eat so it saves time not having to peel it. This dish can be made with unflavored extra virgin olive oil and a traditional balsamic vinegar of course but layering in flavored olive oils and vinegars can add a whole other dimension of flavor and be a fun and seasonal way to add nuances to even the simplest dishes.  Here we use our vegan, organic butter flavored olive oil and cinnamon pear dark balsamic to add richness and warmth for the fall.
4 side dish servings
 
Ingredients
½ red onion, sliced into wedges with root end attached
1 pound Delicata squash, halved lengthwise, seeded, sliced into ½ "thick half moons
3-4 sprigs of fresh thyme
1 ½ tablespoons butter flavored olive oil
1 tablespoon cinnamon pear dark balsamic vinegar
1 tablespoon dried cranberries
Kosher sea salt and fresh cracked pepper to taste
 
Directions
Preheat oven to 425° F.  On a half sheet pan, scatter the onions, squash, and thyme sprigs evenly.  Drizzle with 1 tablespoon of the olive oil and season with salt and pepper.  Place sheet pan on center rack and roast for 10 minutes.  Check and toss the squash and onions on the pan and set back in oven for 5-10 more minutes until slightly caramelized and fork tender.  Drizzle with balsamic sprinkle on the cranberries and let roast for a couple more minutes before taking out of the oven.  Transfer to serving dish and check seasoning adjusting for more salt or pepper to taste.  Drizzle with remaining oil and vinegar before serving. Enjoy!
Watch our step by step video here!