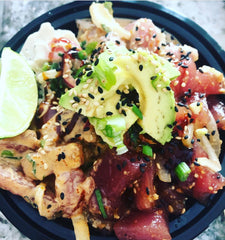 Ingredients:
1lb sashimi grade ahi 
1 tbs shoyu 
1 clove minced garlic 
1 Thai chili minced (can use less if you like less spicy) 
1/2 tps sriracha 
1 tbs mayonnaise 
1 tsp green onion 
1tbs masago (optional) 
Toppings: optional
Sliced avocado 
Sesame seeds 
Chopped English cucumber
Edamame 
Furikaki 
Cube ahi into bite size cubes, leave to the side.  In a medium sized mixing bowl make the sauce with the remaining ingredients. Whisk to combine. Add cubed ahi to the sauce, gently fold to combine. Top with additional green onion.