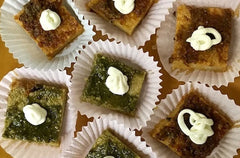 Polenta squares topped with pesto or tapenade     Yield: one 9"x13" jellyroll pan
Courtesy of Rebecca Woodland
Preparation time: 10 minutes cooking time + additional topping time
The secret to perfect polenta is patience! The water must be at a full rolling boil. The dry polenta must be sprinkled into the boiling water, a little at a time so the water continues to boil uninterrupted, until all the polenta has been added. If you try to rush this or ignore the directions, you will end up with a lumpy, disgusting mess.
For POLENTA:   
1 cup dry polenta (La Favorita brand, any flavor)
3½ cups boiling water
½ tsp. sea salt
TOPPINGS: (your choice, do not combine)
La Favorita: Pesto di Cavolo Nero (Kale)* or Genovese (Basil) Pesto, Crema di Funghi Porcini
Della Nonna Tapenades: Mushroom & Truffle, Green Olive, Sundried Tomato*
or any other savory topping you like (* used in demo)
OPTIONAL ADDITION:
4 oz. goat cheese (enough for a dollop of goat cheese on each square)
To make a creamier, more flavorful goat cheese, add a drizzle of your favorite flavored olive oil and mix well before using. Try pairing your choice of oil to complement or match your topping.
METHOD
Bring 3½ cups water to a rolling boil. While water continues to boil, gradually sprinkle polenta into the boiling water, stirring continuously with a wire whisk. Do NOT "dump" the polenta into the water or it will lump!
Add salt. Keep stirring. Cook about 3 minutes, until mixture begins to thicken.
Remove from heat and set aside.
Lightly coat bottom and sides of a large baking sheet/jelly roll pan with your favorite olive oil.
Pour cooked polenta onto the baking sheet. Spread it evenly across the entire surface, smoothing the top. Set aside to continue cooling. Polenta will continue to thicken as it cools.
Prepare goat cheese. Put it all in a bowl. Drizzle your favorite olive oil over it. Mix well with a fork.
When polenta has cooled to room temperature, cut it into squares, triangles, or diamonds of equal size. Top with a smear or smidgen (not an actual unit of measure) of your favorite topping.
Just before serving, add a small dollop of the goat cheese to each square.
VARIATIONS:
You may want to "toast" the polenta in a 350 degree oven before adding the toppings. For a more festive touch, top each square with microgreens, a slice of grape tomato, or other tiny edibles.