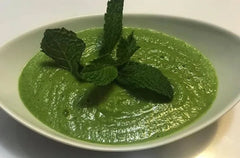 Ingredients:
3 Tablespoons *Butter infused Olive Oil
1 medium chopped onion 2 cups vegetable broth
4 cups of peas (fresh or frozen) hand full of fresh flat leaf parsley hand full of fresh mint leaves salt & pepper to taste
chopped fresh chives to garnish
In a heavy pot over medium heat cook onion in olive oil just until soft. Add vegetable broth and bring to a boil. Reduce heat and add peas and simmer till tender. Pour into blender and add parsley, mint, salt & pepper and puree till smooth. Add more broth if too thick.
Notes: Peas are fairly low in calories, contains almost every vitamin & mineral your body needs, high in fiber & protein. Peas also have a low glycemic index. Protein increases the levels of certain hormones that reduces appetite. Protein works with fiber to slow digestion. Fiber also feeds good bacteria important for gut health.
Parsley is known to detoxifies the body helps to ease strain on the kidneys. Mint helps with digestion.
RECIPE COURTESY OF SABRINA NAJARIAN