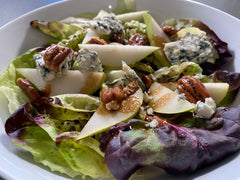 Watch our step by step video recipe here!
SERVES 4 
Ingredients:   
I head of Butter Lettuce torn into bite sized pieces (or other delicate lettuce or baby lettuces) 
2 pears, cored and halved cut into thin slices 
½ cup candied pecans 
2 Tablespoons Cinnamon Pear Balsamic Vinegar 
3 Tablespoons delicate extra virgin olive oil
3 oz blue cheese or gorgonzola, sliced or crumbled 
Salt & fresh cracked pepper to taste 
Directions: 
Layer lettuce onto serving platter, bowl, or individual salad plates.  In a small bowl, mix together the balsamic, olive oil, a pinch of salt and a couple of cracks of pepper until emulsified with a fork.  Just before serving, drizzle the lettuce with 2/3 dressing and top with pear slices, blue cheese crumbles, and candied pecans.  Finish with extra dressing if needed. Bon Apetit!