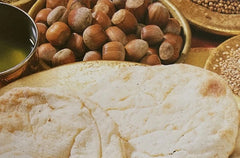 Dukkah
Sesame and coriander dip
This is a classic Egyptian way to serve bread as a starter course, with other dips and "mezzeh" (appetizers), or alongside kebabs with a nice green salad.  This is also a fun gift idea to make as a hostess gift or for holiday gift giving. Portion dukkah into small mason jars along with a nice bottle of Extra Virgin Olive Oil! 
Dukkah
Sesame and coriander dip
(makes about 2 cups, or 4 appetizer servings)
8oz. Sesame seeds
4oz. Coriander seeds
2oz. Hazelnuts
2oz. Cumin seeds
Extra Virgin Olive Oil (about ½-1cup)
Warm Arab bread, naan, or pita for serving
Preheat oven to 280 degrees F.  Toast the seeds and hazelnuts on moderate heat for about an hour to bring out their fragrance and dry slightly.  Add toasted nuts and seeds to food processor and pulse, careful not to pulverize but just to chop nuts and mingle the flavors.  Add salt and pepper to taste and pulse once to mix.  Pour dukkha into serving bowl and serve alongside a bowl of extra virgin olive oil with warm bread.
Suggested Olive Oil pairing:  A medium robust extra virgin olive oil works well to stand up to, but not overpower the warm aromatic spices in the Dukkah.  Garlic infused olive oil will also pair nicely with this.