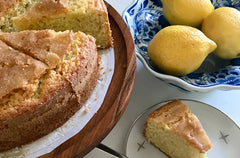 Serves 10-12
25min prep + 40min baking time
1hr 5min total time
Ingredients
½ C almond flour
1 ¾ C cake flour
2 Tsp baking powder
¼ Tsp baking soda
½ Tsp Kosher salt
3 eggs (room temperature)
3/4 cup sugar (plus more for dusting)
1 ½ Tbsp lemon & orange zest
2 Tbsp fresh lemon juice
2 Tbsp fresh orange juice
¼ C milk (room temperature)
1 tsp vanilla extract
1 ¼ C fresh extra virgin olive oil (plus more to drizzle on top)
Directions
Preheat oven to 400° F and set up to bake on the middle rack.  Spray a 9" springform pan with baking spray and line bottom with parchment paper.  Spray the parchment lined bottom and sides and then sprinkle the sides with a light dusting of sugar. 
Mix first 5 ingredients together in medium bowl, set aside.  Using a stand mixer on low speed with a whisk attachment, add eggs and whisk for 1 minute.  Add sugar, lemon and orange zest to mixer and whisk on high speed until mixture turns a pale-yellow color with a ribbon-like texture, about 3 minutes.  Turn mixer down to a medium speed, add in the olive oil in a slow stream until thoroughly mixed.  Next add the rest of the wet ingredients until just mixed.  Add the dry ingredients a little at a time until just incorporated, being sure to scrape the sides of the bowl to mix thoroughly but gently. 
Pour mixture into prepared pan and sprinkle the entire top with a generous dusting of sugar (about 2-3Tbsp).  Set cake on the middle oven rack and drop the oven temperature down to 350°.  Bake for 40-45 minutes, or until a toothpick inserted into center comes out clean or with a couple of soft crumbs. 
Remove cake from oven and let cool in pan for 15 minutes on a wire rack.  Delicately remove springform ring by unlatching the hinge and lifting off carefully (This should come off quite easily, but if there is any sticking you can run a thin knife along the edge to separate the cake from the pan.)  Poke holes evenly around the entire top of the cake with a toothpick and drizzle a couple Tbsp more olive oil on top.  Let cake cool on rack for about an hour.   This olive oil cake can be enjoyed warm or room temperature and keeps well for a few days in a covered cake stand or wrapped in plastic wrap.  Serve simply or enjoy with sweetened whipped cream and fresh berries cooked in one of our fruit balsamics for a real treat! 
About This Recipe
What I wanted to create in this olive oil cake recipe is a moist and delicate cake that really featured the flavor of the olive oil.  The combination of cake flour and almond flour create a light and airy cake with a moist and tender crumb.  The light addition of citrus and vanilla is just enough to enhance the flavor of the cake without overpowering the subtle fruity notes of the olive oil.  I recommend using a very fresh extra virgin olive oil that has a nice green fruity nose with slight bitterness for balance and a peppery finish.  Dusting the top with sugar and putting it into the hotter preheated the oven, then turning it down helps to create a nice rise and crunchy golden crust.  Finishing the cooling cake with a nice drizzle of the olive oil creates added moisture and helps to further highlight the fruity notes of a nice fresh extra virgin olive oil.  This cake keeps well at room temperature in a covered cake stand, or wrapped in plastic.