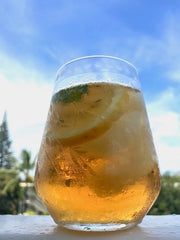 Makes 1 refreshing beverage.
Ingredients
4oz. iced tea
1oz. Sicilian lemon white balsamic
4oz. ice
Lemon slice and mint for garnish
Directions
Mix iced tea with white balsamic in pretty glass with ice cubes.  Add lemon slice and mint for garnish.  Alcohol Optional Version: Delicious spiked with bourbon.
About This Recipe-
A shrub is also known as a drinking vinegar which has actually been around for a very long time. It was originally a way of preserving fruit. It's usually made with apple cider vinegar, fruit and sweetened with sugar and becomes a sweet and sour syrup, but our traditionally made balsamic fruit flavored vinegars are an easy probiotic option without the addition of sugar.  A generous splash can be diluted with seltzer water, and can be spiked with a spirit so it's a perfect alcohol-optional beverage. 
Try mixing this up with Kanoe's suggestion of Pineapple white balsamic for a "plantation iced tea" and garnish with fresh pineapple, or our peach white balsamic for a peach tea flavor.  You can also use flavored tea to add to the flavor like a mango and black tea, peach and black tea, or lemon verbena for a refreshing twist.