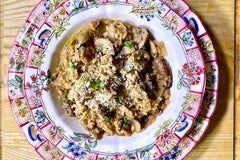 Risotto is a classic Northern Italian favorite.  This recipe is perfect for a comforting vegetarian meal or as a hearty side for dish perfect with a roasted pork loin or baked chicken.  As an alternative, add frozen green peas just before finishing cooking for a little color and freshness.
Click Here to buy the dinner kit! 
Makes 2 entrée portions, or 4 sides or starters
 
Ingredients
4-5 cups low sodium vegetable or chicken broth
½ ounce dried porcini mushrooms
3 tablespoons porcini mushroom & sage infused olive oil, divided
3 tablespoons butter, divided
½ yellow onion diced, divided
2 garlic cloves minced, divided
12 ounces mixed mushrooms sliced (we like a combination of cremini and white button mushrooms)
1 tablespoon fresh thyme leaves, chopped
1 tablespoon fresh Italian parsley, chopped
½ cup dry white wine
1 cup Carnaroli or Arborio rice
1/2 cup freshly grated Parmesan cheese
White truffle oil (to drizzle)
Salt and pepper to taste
 
Directions
Heat the vegetable broth in a medium saucepan on low heat and keep warm.
In a small bowl, pour 1 cup of boiling water over the dried porcini mushrooms and let steep for 10 minutes or until rehydrated and tender.  Strain mushrooms and reserve the steeping liquid.  Chop the mushrooms and set aside. Add reserved mushroom broth to warmed vegetable broth.
In a large straight sided skillet, heat 1½ tablespoons of mushroom & sage olive oil, and 1½ tablespoons of butter over medium heat.  Add ¼ onion, 1 clove minced garlic and sauté for 2-3 minutes until slightly translucent and tender.  Add in sliced mushrooms, thyme and parsley and continue to cook until lightly browned but still firm and not soggy.  Season with salt and pepper.  Add in chopped porcini mushrooms, and cook 1-2 minutes longer to meld the flavors, then remove the mushroom mixture from heat and reserve on the side for later. 
 Add in remaining 1½ tablespoons of mushroom & sage olive oil, ¼ onion, 1 clove minced garlic and sauté for 1-2 minutes.  Add rice to pan and continue to stir cooking the garlic and onion and lightly toasting the rice until opaque, about 1 minute.  Deglaze the pan with wine and continue stirring until evaporated. 
Start adding warmed vegetable-mushroom broth, one or two ladlesful at a time stirring until rice has absorbed the liquid.  Continue to cook and stir, repeating this step until rice is tender but still slightly firm and creamy.  You may not need to use all of the broth, and that's ok-the most important thing to remember is the texture is correct and to not overcook it and have mushy rice. Add the reserved mushroom mixture to the pan and stir in to meld the flavors over the last few minutes of cooking.  Add in the last tablespoon of butter, grated parmesan cheese stirring in to incorporate. Check for seasoning and adjust as needed. 
Serve risotto with a final dusting of grated parmesan, fresh parsley, and a drizzle of our pure white truffle oil.  Bon Appetit!
Watch our step by step video here!