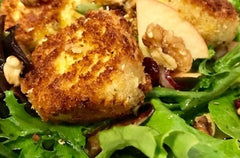 Serves 2 entrée salads or 4 starter course salads
Ingredients
5oz. organic mix baby lettuce
1 tsp Dijon mustard
2/3 cup Tuscan herb olive oil
1/3 cup cranberry pear white balsamic vinegar
4oz. Mild creamy goat cheese
½ cup all purpose flour
1 egg
2 tsp. Island Olive Oil Italian Herb Dipping Blend
½ cup panko
2 tbsp extra virgin olive oil
 ½ apple (thinly sliced)
1 cup walnuts
½ cup dried cranberries
¼ small red onion thinly sliced
Directions
Cut cold chevre into 4 equal pieces and flatten into small disks (about 3" diameter x ½" thick) Set aside in freezer to get nice and firm.   Next, ready 3 small shallow dishes for dredging.  In the first bowl mix flour and herb seasoning blend, set aside.  In the second bowl, lightly beat egg and set aside.  Put panko in the third bowl. 
For the dressing, whisk together the Tuscan herb olive oil, Dijon mustard, and cranberry pear white balsamic and add salt and fresh cracked pepper to taste. 
After 5-10 minutes, or once the goat cheese is nicely chilled and firm remove from freezer. Heat a couple of tablespoons of extra virgin olive oil on medium heat in a nonstick skillet.
Dredge each disk of goat cheese first in flour mixture, then in egg wash, and finally in panko, and lightly pan fry until a crispy golden brown crust forms and cheese is warmed through but not melting, about 2-3 minutes per side.  Set aside on paper towel lined dish to drain any excess oil.
Toss salad greens, onions, and apples with dressing.  Finish with a nice sprinkle of dried cranberries and walnuts and serve with 2 goat cheese croquettes for an entrée salad or one each for a smaller salad course. 
About This Recipe-
This recipe is so versatile and easy I promise! It is more of a "formula" than a recipe.  Be creative and have fun!
Add something crunchy like walnuts, pecans, hazelnuts, pepitas…(for crunchy satisfying texture)
Add some fresh fruit like apples, grapes, pears, orange supremes…(for that burst of freshness)
Add some dried fruit like cranberries, cherries, raisins… (for a sweet/tart chew)
Add something with a little bite like red onion, pickled onion, green onion…(for a kick)
If you don't like goat cheese or want to make this a hearty meal replace the croquettes with grilled shrimp or chicken, and add a sprinkle of blue cheese crumbles or feta. 
You can also change the dressing to mix any of your favorite Island Olive Oil and vinegar pairings.  Some other pairing suggestions are:
Cranberry Pear White Balsamic + Blood Orange Olive Oil
Coconut White Balsamic + Persian Lime Olive Oil
Neopolitan Herb Dark Balsamic + Tuscan Herb Olive Oil
Red Apple Dark Balsamic + Mushroom & Sage Olive Oil