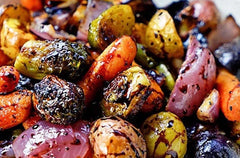 This is an easy recipe that's simple, tasty, and always a crowd pleaser. You can substitute with other veggies like, asparagus, or substitute the potatoes for butternut squash, or whatever you have on hand.  The most important thing to remember is that they are all cut in a similar size so they cook evenly.
PREP TIME: 20 Minutes
COOK TIME: 20 Minutes

Ingredients:
12-15 brussel sprouts, trimmed and halved
1 whole Red Onion, Peeled And Cut Into Large Chunks
1 whole Red Bell Pepper, Seeded And Cut Into Large Chunks
8 ounces, weight Mushrooms (any Kind), Quartered Or Halved Depending On Size
2-3 carrots, Cut Into Large Pieces
2 Red Potatoes, Cut Into Large Chunks or 8 oz. fingerling potatoes halved
3 cloves Garlic, Minced
 Salt And Pepper, to taste
1 teaspoon choped fresh herbs (parsley, sage, rosemary, thyme)
1/4 cup Mushroom & Sage Olive Oil
1/4 cup Apple Dark Balsamic

Preparation:
Preheat oven to 450 degrees.
Combine all the prepped veggies in a large bowl. Drizzle in the Mushroom and Sage Olive Oil, then season with salt, pepper, garlic and other seasonings of your choice. Toss to coat.
Arrange on baking sheet (2 sheets if your veggies are really big!) , spreading the veggies out to give them room. Roast for 15 minutes, shaking the pans at least twice during that time.  toss and roast for an additional 5-10 minutes, until veggies are nicely roasted. While the veggies are cooking, simmer balsamic for about 15 minutes or until nice and thick.  When veggies are done, drizzle with the Red Apple Dark Balsamic Glaze.