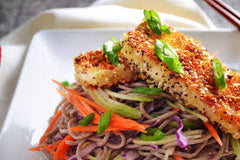 Ingredients:
For Tofu:
one package extra-firm tofu (around 14 oz)
2 tablespoons each white and black sesame seeds
1/3 cup panko bread crumbs
salt and pepper
1 egg
¼ cup of Dark Toasted Sesame Oil

Drain tofu:
Weigh the tofu down from the top by placing a second bowl on top of the tofu and filling it with some canned food or other heavy items. Place in the fridge to drain for 15 minutes at least. The better-drained the tofu, the crisper it will fry. Slice the drained tofu into thick slices, about 3/4-inch. Toss panko and sesame seeds together in a small, shallow dish with some salt and pepper. In another small, shallow dish, lightly beat egg and season with salt and pepper. Dredge tofu slices first in egg mixture and then in panko mixture, making sure to get all six sides coated. Set aside in a single layer on a plate.

Meanwhile, heat a tablespoon or two of oil in a large, non-stick skillet over medium-high. Once a drop of water will sizzle and dance across the pan, gently place the tofu slices in to cook without touching each other. Give them 3 – 4 minutes per side, watching for panko to crisp and brown, then flip and repeat. Remove to a paper-towel lined plate to drain before serving.

For Noodles:
1/2 bag of Pasta Mama Pasta
1 large cucumber, peeled, halved and seeded (use a spoon to scrape out the seeds)
2 medium carrots, peeled
1 cup (about 1/8 head) thinly shredded purple cabbage
1 bunch scallions, sliced

Cook the noodles according to package directions. These delicate noodles do not need to cook in a rolling boil, and don't cook as long as the usual egg pastas, just as a heads up. Drain, then rinse with cold water. Run the cucumbers and carrots through the julienne blade on a mandoline to produce noodle shapes, or slice thinly, stack, and cut into long, thin matchsticks. Toss noodles, cucumber, carrots and cabbage together in a large bowl with the remaining sesame oil to taste. Serve immediately, or chill in the fridge for later.

To enjoy, top with piping-hot, crisp tofu and garnish with scallions.
Serves 4-6