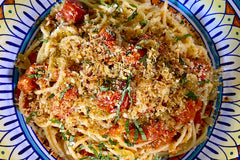 This recipe is inspired by a dish I fell in love with when I was a young college student in Boston.  Sonsie on Newbury Street made the most wonderful angel hair pasta with slivered garlic, cherry tomatoes, and a crunchy breadcrumb topping…this is our reimagined version of this most satisfying yet simple vegetarian pasta dish.
Click here to watch the step-by-step video recipe!
Serves 2

Ingredients:
1 pint cherry tomatoes
1/3 package spaghettini
4 tablespoons Tuscan Herb Olive Oil, divided
¼ teaspoon dried chili flakes
3 cloves garlic, thinly sliced
1 teaspoon fresh rosemary, minced
1 teaspoon fresh thyme, minced
1 tablespoon flat leaf parsley, minced
¼ cup fresh basil, chiffonade or thinly sliced
½ cup Panko
½ cup grated parmesan

 
Directions:
Heat a large stock pot filled ¾ of the way with water and bring to rolling boil for the pasta.   
In small bowl combine ½ cup Panko and 1 tablespoon of the Tuscan herb olive oil and mix gently until combined. Add a sprinkle of salt to taste and toast them in a small frying pan over medium heat, stirring often making sure not to burn.  Once toasted, remove from heat and set aside.
In a large, high sided skillet over medium low heat add 2 tablespoons of the Tuscan Herb olive oil, cherry tomatoes, and red chili flakes and cook covered, stirring occasionally until the tomatoes start to slightly sauté and begin to breakdown-about 8-10 minutes.  Next stir in the garlic, rosemary, thyme, and salt and pepper to taste and continue cooking covered stirring occasionally making sure not to burn the garlic until a sauce begins to develop and the garlic is melted. 
While your sauce is cooking, boil the pasta to package directions.  When pasta is al dente, and once the garlic is softened and no longer has that raw pungent taste, add the noodles directly into the pan of sauce and stir adding in a ladleful of pasta water at a time (about ½-1 cup max) to create a sauce and coat the pasta.  Stir in some grated parmesan to give it a little more body and savory flavor as well as the parsley and basil for freshness.  Check and adjust seasoning as necessary. 
Plate the pasta and top it with a little more parmesan, Tuscan Herb olive oil, basil, and the crunchy Panko.  Enjoy!