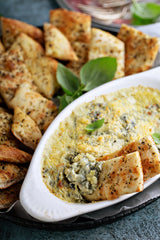 Here is Jennifer's spinach artichoke recipe. It's really tasty!! It's a spin off of a version she used to make frequently for pot lucks etc...
1 jar
artichoke tapenade
1 block cream cheese softened to room temp 
1 package frozen chopped spinach thawed
1 jar garlic Alfredo sauce 
1/2 cup Parmesan cheese 
1/2 cup Mozzarella cheese 
3 cloves roasted garlic or chopped(I prefer roasted for a richer flavor) 
Preheat oven to 425 degrees. Wrap garlic cloves in foil and roast in oven for 15 minutes or until soft. You may skip this step and chop the garlic however, I find the roasted garlic provides a richer flavor. 
While garlic is roasting squeeze excess water from thawed chopped spinach by wrapping in cheese cloth or thin tea towel and squeezing until there isn't any liquid. When garlic is finished let cool and remove outer layer. Take a fork and mash the garlic into a paste. Decrease oven temperature to 375 degrees. Next Place artichoke tapenade, room temp cream cheese, chopped spinach, Alfredo sauce, parmesan cheese, mozzarella cheese, and roasted garlic paste to mixing bowl. Mix until ingredients are thoroughly combined. If mixture seems a little dry add a small amount of Alfredo sauce until you reach a nice creamy texture through out. Place in a small baking dish and bake for 35 minutes or until mixture is bubbling. Sprinkle top with mozzarella and Parmesan cheese, and bake until cheese is golden brown.