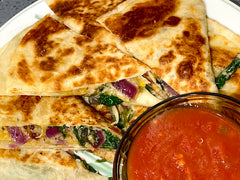 1/2 onion, chopped 
4 garlic cloves, chopped 
4 tbsp. extra virgin olive oil
8 tbsp. artichoke tapenade 
2 c. baby spinach 
1 c. Shredded Monterey Jack 
3 flour tortillas
                                Heat 1 tbsp. of olive oil in a large skillet over medium heat. Add onions and sauté until soft. Add in garlic and cook until fragrant, about 30 seconds. Add the spinach and cook until the spinach is just wilted, about 1-2 minutes. Stir in 5 tbsp. of artichoke tapenade and remove mixture from the heat.
Clean skillet and place over medium heat. Add the remaining olive oil.
                                Meanwhile, build the quesadillas. Spread 1 tbsp. of artichoke tapenade onto a tortilla. Top with one third of spinach-artichoke mixture followed by 1/3 c. of shredded cheese.  Repeat to make another quesadilla.
                                One at a time, transfer quesadillas to the pan with cheese and spinach-artichoke filling side up. Cook until golden-brown, about 3 minutes. When ready, use tongs or a spatula to fold the tortilla in half while on the stove. Feel free to flip the quesadilla until the level of golden brown you want is achieved. Once cooked, transfer to plate, cut into fourths and serve immediately.
 Recipe Courtesy of Donovan Malinay