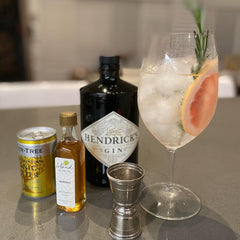 Spanish Style Grapefruit Gin & Tonic (1 serving)
Our Spanish style Gin & Tonic bring in bright juicy notes of grapefruit with a subtle sent of rosemary for an earthy balance.
2 oz gin
4 oz tonic
1tsp grapefruit balsamic
Garnish: Grapefruit slice
Garnish: 1 sprig rosemary
Fill a large wine glass with ice and pour in gin, tonic, and grapefruit balsamic.  Stir and serve over ice and garnish with grapefruit wedge and rosemary sprig.