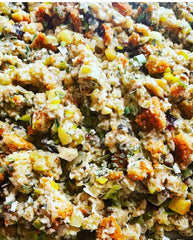 Ingredients:
1 onion chopped
1 leek chopped
3 stalks celery chopped
3 cloves mince garlic
1/4 cup chopped Honeycrisp apple
1 cup chopped mushrooms ( I use a mix of mushrooms but whatever looks fresh is best)
1/4 cup dried cranberries
1 Tbsp poultry seasoning
1tsp dried sage
1/4 cup butter
1/4 cup Island Olive Oil Mushroom and Sage Olive Oil
1 1/2-2 cups warmed stock (homemade is best but store bought works just as well)
4 cups dried bread cubes
Salt and pepper to taste

Directions:
Pre heat oven to 350°F.
In a large pan add butter and oil, heat until melted. Add onions, leeks, celery, mushrooms, garlic, and apples. Cook until caramelized and soft, about 6 mins. Add in bread cubes a cup at a time to incorporate all the ingredients. Mix in poultry seasoning and sage. Add in stock 1/2 a cup at a time. You will want to have the bread soaked enough. If it needs more liquid add in more stock. Add in dried cranberries. Salt and pepper to taste. Finish with extra Mushroom and Sage Oil.
Put stuffing in your serving dish, covered, place in preheated oven for 25 mins. 
Recipe courtesy of Chef Kelly Vierra - Picnics From the Vine