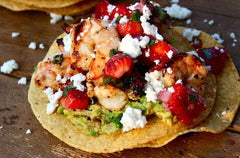 Tostadas:
2 lbs. Shrimp, peeled and deveined
¼ cup Chipotle Olive Oil
¼ cup Peach Balsamic Vinegar
2 cloves garlic, minced
1 small jalapeño, seeded and diced (optional)
1/8 tsp. smoked paprika
1/8 tsp. cumin
½ tsp. salt
2 ripe avocados, mashed together with ¼ tsp. salt
Queso Fresco
Tostada Shells (about 10)

Salsa:
1 package strawberries, washed and chopped
1 large jalapeño, seeded and minced
1/3 cup finely chopped red onion
1/3 cup chopped fresh cilantro
½ tsp. salt
1 Tbsp. Persian Lime EVOO
1 Tbsp. Strawberry Balsamic Vinegar

Instructions:
For the tostadas, combine shrimp with the next 7 ingredients, marinate at room temperature for 30 minutes.

Thread onto skewers, discard marinade, and grill or broil for 3 minutes on each side, or until cooked through.

To serve, spread mashed avocado on tostada shell, top with shrimp, queso fresco, and strawberry salsa.

For salsa, mix all ingredients together in a medium bowl.
Enjoy!