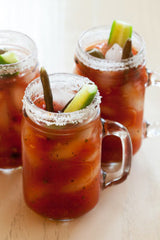 Ingredients:  
Your Choice of Vodka……………1 ½ Parts
Dry Sherry………………….…..….1 Part
Homemade Bloody Mary Mix.…3 Parts
Coarse Salt………………………..2 tbs
Lemon Wedge……………………..1

Homemade Bloody Mary Mix:  
3 Tbsp of olive tapenade
2 Tbsp Peperoncino & Garlic or Cayenne Flavored Olive Oil
1/2 tsp dried oregano leaves
1/2 tsp dried basil
1 heaping tsp celery salt
1 heaping tsp freshly ground black pepper
32 oz tomato juice
5 tsp hot sauce
2 oz fresh lemon juice
2 oz fresh lime juice

Homemade Bloody Mary Mix Preparation:  
1.  Combine all ingredients in a pitcher with a tight-fitting lid.
2.  Close the pitcher and shake vigorously.
(Prepare up to four days in advance.)
Preparation:  
1.  Rub the juicy side of a lemon on the outer edge of a tall glass then roll the glass lip in coarse salt.
2.  Add all ingredients to a cocktail shaker filled with ice and roll back and fourth between tall glass and tin.
3. Strain into prepared glass, and present with a cucumber spear and an olive.
Please Drink Responsibly!