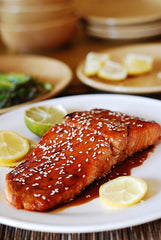 Ingredients:  
2 Salmon Filets
¼ cup Blood Orange Fused Olive Oil
¼ cup Blackberry-Ginger Balsamic Vinegar
1 Tbsp. Shoyu (Soy Sauce)
1 Tbsp. chopped fresh ginger
1-2 Tbsp. Toasted Sesame Oil
1 Tbsp. Toasted Sesame Seeds

Mix together olive oil, balsamic vinegar, shoyu (soy sauce), and ginger. Put salmon and olive oil mixture into a large re-sealable bag and marinate for 2-4 hours.
In a skillet, heat the sesame oil over med-high heat. Remove salmon, discard marinade, and cook salmon for 2 minutes on each side. Add salt and pepper to taste. Top with Sesame seeds.
Enjoy!