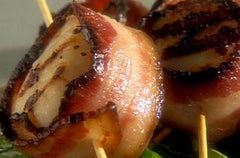 Ingredients:  
1lb. Scallops
4Tbsp. Chipotle Flavored Olive Oil
¼ cup Pineapple White Balsamic Vinegar
1/3 Cup Apricot Jam
1 Tbsp. Red Pepper Flakes
10-12 thick slices of Applewood Smoked Bacon
Cubed Pineapple (enough to cover ends of toothpicks)
Toothpicks

Directions:  
1.  Whisk together 2Tbsp. Chipotle infused olive oil, Apricot jam, and red pepper flakes.
2.  Over medium to medium-high heat, reduce the Pineapple White balsamic by about 50%. Note: A ¼ cup will reduce in about 3-5 minutes over heat. Remove reduction from heat just prior to desired thickness. Pour into a glass bowl and place on-top of a bowl of ice. Stir continuously until the reduction cools. Once cooled, combine Pineapple reduction with sauce made above.
3.  Wrap a slice of bacon around scallop and hold in place with toothpick. Note: It is good to soak toothpicks in water prior to grilling. Place a pineapple cube on each end of the toothpick.
4.  Rub bacon/pineapple wrapped scallops with remaining 2Tbsp. of Chipotle olive oil and let sit for 20-30 minutes.
5.  Grill or broil scallops. Brush with pineapple reduction glaze and serve immediately with dipping glaze.

Enjoy!