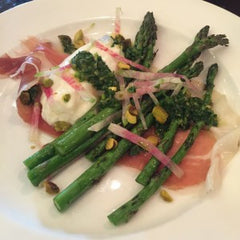 Grilled Asparagus with Burrata and Prosciutto

I came across this dish while on a recent trip to San Francisco. Burrata is a mild and creamy Italian cheese that I'd say is between fresh Buffalo Mozzarella and a milky Ricotta. It lends an unexpected twist to the otherwise simple grilled vegetable. Prosciutto anchors the flavors with its pungent saltiness.
This lovely seasonal dish is a fresh mixture of texture and color.
It makes a delicious appetizer, light lunch, or as a dinner side dish on a warm summer night. Serves 4

*Try this recipe with any of these Island Olive Oils: Lemon, Persian lime, Tuscan herb, Basil, Garlic, Gremolata, Baklouti Green Chili, or any of our Premium EVOO's
Ingredients:
1 1⁄2 -2 pounds fresh asparagus
4 oz. burrata
4 slices prosciutto
2-3 T (+more to drizzle) Island Olive Oil EVOO* 1 lemon
Sea salt & freshly ground pepper to taste
1⁄4 cup chopped toasted pistachios
slivered radish slices
Gremolata:
1⁄4 cup finely chopped Italian flat leaf parsley 1T lemon zest
1 clove minced garlic
Preheat grill.
Difficulty level: Easy-Medium
  
Zest 1 Tablespoon of lemon, set aside in a small bowl. Cut lemon in quarters. Rinse and cut off rough stalk ends of asparagus. In a heat resistant dish, add asparagus, juice of 1⁄4 lemon, EVOO, salt and pepper to taste, toss and set aside to marinate. Combine parsley and garlic to lemon zest. Add a drizzle of olive oil, a pinch of salt and a squeeze of lemon to "juice up" the mixture; stir to combine.
Grill asparagus until al dente. Set back in marinade dish.
Place the prosciutto in a layer on the bottom of a serving dish. Add the burrata on one side over the prosciutto, and lay asparagus over the prosciutto, and burrata. Drizzle with gremolata. Garnish with toasted pistachios and radish slivers.