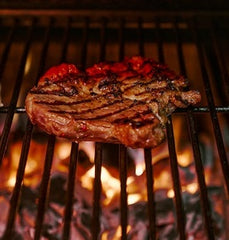 This marinade can serve multiple purposes. You can use it as directed to marinate steak, or you can mix it together with ground beef for burgers. It's a great base for all things ground beef. Makes an amazing base for a rich chili or ragout, or the beginnings of a taco salad.
Makes 3/4 cup
 
Ingredients
¼ cup Harissa infused olive oil
¼ cup Red Apple dark balsamic
2 Tbsp lime juice
2 tbsp miced red onion
1 tbsp minced garlic
1 tbsp dutch-processed cocoa powder
2 tsp sea salt
1tsp ground pepper
 
Directions
Mix all ingredients well and place them in a resealable plastic bag or plastic container with up to 2lbs of your favorite meat, poultry, or even vegetables. Marinate in the fridge  for 1-2 hours, or overnight for meat. This marinade will keep in an airtight container in the fridge for up to 1 week.
Recipe courtesy of  Emily Lycopolus