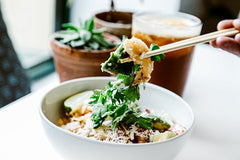 This has all the flavor of traditional deep-friend coconut shrimp with none of the work (or the fat). You can also omit all the veggies and just bring the coconut balsamic to a rolling boil, toss in your shrimp, and let the balsamic reduce and glaze them.
Serves 4
 
Ingredients
¾ lb large shrimp or prawns (about 15) shelled and deveined
1 Tbsp Persian Lime Flavored Olive Oil
¼ cup Coconut White Balsamic Vinegar
¼ tsp sea salt
Pinch of chili flakes
½ red bell pepper, thinly sliced
¼ cup diced red onion
¼ cup chopped mango
1 Tbsp chopped fresh cilantro
 
Directions
In a mixing bowl, toss the shrimp or prawns in the olive oil, salt and chili flakes.
Heat  a nonstick frying pan over medium-high heat and add the balsamic. Bring to a boil. Add the shrimp/prawns, bell pepper, and red onion immediately. Sauté for 2 minutes, or until shrimp are just pink and have curled.
Add the mango and stir to combine. Remove from the heat, sprinkle with chopped cilantro, and serve over jasmine rice.
Recipe courtesy of  Emily Lycopolus