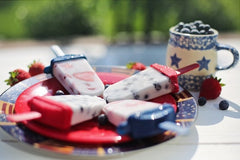 Cool off this summer with our tasty blueberry balsamic ice pops!
Makes 10 Ice Pops
 
Ingredients
2 cups wild blueberries
¼ cup Blueberry dark balsamic vinegar
¼ honey
1 cup lime juice
 
Directions
In a saucepan over medium heat, bring the blueberries, balsamic, and honey to a simmer until soft and cooked through, about 10 minutes. Place in food processor and blend until smooth. Pour through a fine mesh strainer into a large bowl to remove any excess skin and seeds. Add the lime juice and 1-1/2 cups cold water, mixing well. Pour into ice pop molds or small 3-4 oz paper drinking cups, such as Dixie cups, and place an ice pop stick in the middle of each.
Freeze for at least 6 hours. To remove from molds, dip in a near-boiling water for 5 seconds to loosen slightly. Eat immediately. Any uneaten ones can be wrapped in parchment paper, places in a resealable plastic bag, and returned to the freezer for later.
Recipe courtesy of  Emily Lycopolus