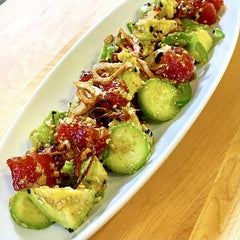 This is your new favorite poke recipe! Ruby red ahi tuna, with the perfect balance of flavors. Fresh ahi, creamy avocado, crunchy Persian cucumber, spicy jalapeños served in a delicious marinade of soy, garlic, toasted sesame and macadamia nut oils topped with crispy fried shallots and toasted macadamia. DEE-LISH!
Makes 2 appetizer portions, or 4 sides or starters
 
Ingredients
8oz Fresh Ahi tuna (sashimi grade), cut into ½ inch cubes
1 Tablespoon Garlic Macadamia nut oil* (plus more to fry shallots)
¼ teaspoon Red Alae Hawaiian salt
¼ teaspoon dried garlic
1 green onion, diced
1 ½ tablespoons low sodium soy sauce
1 teaspoon prepared wasabi
2 Tablespoons Japanese toasted sesame oil*
1 small avocado, cut into ½ inch cubes
1 Small Persian cucumber, sliced in thin rounds
½ small jalapeño, sliced in thin rings
2 teaspoons Black and white sesame seeds
1Tablespoon "Better than Breadcrumbs"* or finely chopped macadamia nuts (plus more for garnish)
1 small shallot, thinly sliced
Furukake for garnish

 
Directions
Combine first five ingredients in a medium mixing bowl and set aside.  In a small bowl whisk together soy sauce, wasabi, and sesame oil and pour over ahi mixture and toss gently until just coated.  Next lightly fry shallots in a teaspoon of Garlic Macadamia nut oil in a small sauté pan on medium heat until golden brown and crispy.  Drain shallots on paper towel and save for the final garnish.  Add remaining ingredients to ahi mixture and gently toss until just mixed to keep the ingredients bright and fresh to prevent the mixture from getting broken down and mushy.  Plate and garnish with extra nut crumbs and fried shallots.  Serve over rice with furukake, with fresh wonton chips, or on its own!
Note: "Better than Breadcrumbs" (ground, seasoned roasted macadamia nuts & almonds)