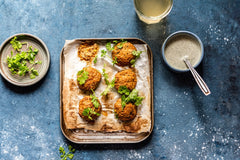 These turkey meatballs are bursting with flavor! The savory garlic mixed with the melted warm feta chunks and sundried tomatoes will make your taste buds smile (if they could). The cool creamy lime dipping sauce was the perfect dip for these deliciously moist meatballs. 
Ingredients
Serves 2 
1 lb of ground turkey ( can also use ground chicken)
1 egg
½ cup panko
2 cloves garlic, minced
½ cup feta
¼ cup chopped sun dried tomatoes (chop into small bite-sized pieces)
¼ cup red onion, chopped finely
1 tsp salt
1 tsp pepper
1 tsp oregano
1-2 TBSP  Garlic Flavored Olive Oil
Dipping Sauce
½ cup sour cream
1/4 cup mayonnaise
1 clove minced garlic
Squeeze of lemon or lime juice (if using fresh, only about ¼ of lemon or half of lime)
Salt and pepper
Dash of cayenne pepper
Squirt of siracha/ or some red pepper chili flakes (skip if you don't like spice)
1 tsp of Persian Lime Flavored Olive Oil
Fresh cilantro
Directions:
Preheat oven to 400 degrees. Mix all ingredients for meatballs in a bowl until well combined. Start forming meatballs a little smaller than a golf ball size and place on a baking sheet lined with parchment paper. Bake in oven for 20 minutes or until nicely golden. While meatballs are baking, mix together sauce. Once meatballs are finished, remove from oven and allow to cool for a few minutes. Serve with dipping sauce, drizzled with oil. Sprinkle on fresh some fresh cilantro. Enjoy!