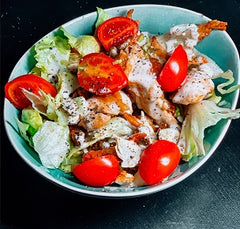 This salad dressing is perfect for any summer salad- use on leafy greens, potato salad, or macaroni salad!
 
Ingredients
2 oz. Sicilian Lemon White Balsamic
1 oz Mayo
2 oz Greek Yogurt
Dash of pepper
 
Directions
First add a dash of pepper, then shake all ingredients together in a jar of choice. Pour over salad or any dish of choice. Store in fridge for up to two weeks.