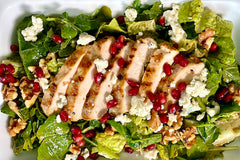 This recipe is a delicious vegetarian entrée salad with strong, savory notes of gorgonzola cheese balanced by the sweet, tart notes of our pomegranate balsamic vinegar.  This sweet gorgonzola vinaigrette stands up to astringent greens like kale and watercress creating a hearty salad.  Adding meaty walnuts, sweet pomegranate arils, and piquant gorgonzola all help to round out and reinforce the flavors in the dish.  Serve with sliced chicken breast to make it a healthy dinner.
Makes 2 entrée portions, or 4 side salads
 
Ingredients:
2.5 ounces baby kale
½ head (approximately 3/4 pound) romaine lettuce, chopped
2 cups watercress, chopped
4 basil leaves
2 ounces Gorgonzola cheese
3 Tablespoons Pomegranate Balsamic Vinegar
6 Tablespoons Medium Intensity Extra Virgin Olive Oil
Garnishes:
1 cup walnuts, roughly chopped
4 ounces Gorgonzola cheese, crumbled
½ cup pomegranate Arils

 
Directions
In a large mixing bowl, add the baby kale, romaine, and watercress and set aside. 
For the dressing, using a small Cuisinart mixer add in torn basil leaves, the first 2 ounces of Gorgonzola and the pomegranate balsamic vinegar.  Drizzle in the olive oil to emulsify and season to taste with salt and pepper.
Pour salad dressing the over top of the salad greens and toss to coat evenly.  Plate the salad on serving plates and garnish with the walnuts, remaining Gorgonzola, and pomegranate arils. Enjoy!