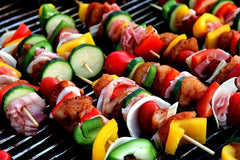 Makes 4 cups
 
Ingredients
1 large onion, diced
2 garlic cloves, minced
1 small red or serrano chili pepper, seeded and diced
2 tbsp robust extra virgin olive oil (we recommend our Peranzana EVOO)
2 cups ketchup
2 cups tomato sauce
1 cup brown sugar, packed
1 cup dark balsamic vinegar*
½ molasses
1 Tbsp liquid smoke (optional)
3 tsp smoked paprika
2 tsp  celery seed
1tsp ground cinnamon
Sea salt and ground pepper
 
Directions
In a large saucepan, sauté the onion, garlic, and chili in olive oil until the onion is translucent and soft, 3-5 minutes. Add the remaining ingredients and stir well to combine.
Bring the sauce to a boil then turn down the heat to a simmer and cook, uncovered, until thick, about 30 minutes. The longer this sauce simmers and reduces, the more intense the flavor. Feel free to use this immediately, but the flavors really meld if you let it sit overnight.
Keep in airtight jars in the fridge for up to 4 months.
*Use Gala Apple dark balsamic for the perfect BBQ for pork, Chocolate dark balsamic will create more of a rich flavor, or Maple dark balsamic for a sweeter option.
Recipe courtesy of Emily Lycopolus of The Olive Oil and Vinegar Cookbook