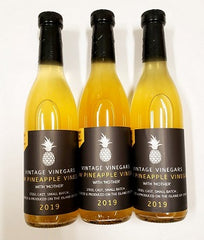 Three simple recipes to utilize locally made Vintage Vinegar's Raw Pineapple Vinegar.  
Raw Pineapple Vinaigrette Recipe:
Ingredients
¾ cup mild extra virgin olive oil
2 tablespoons Dijon
¼ cup raw pineapple vinegar
¼ teaspoon fresh ground pepper
1/8 teaspoon minced fresh garlic
2 tablespoons raw honey
1/8 teaspoon sea salt
 
Directions
Simply combine ingredients in a tight lid mason jar and give it a good shake.
Substitutions/suggestions: If you like spicy substitute with Raw Pineapple Vinegar with Raw Pineapple Vinegar with Chili Pepper
For sweeteners, you can substitute with maple syrup or coconut sugar. For oils, avocado works well too. Add 1 tablespoon of Italian flat parsley and 1 teaspoon dried oregano makes a delicious Italian dressing.
Raw Elixir Spritzer Recipe:
Ingredients:
1 wedge of fresh lemon or lime
1 tablespoon raw honey
Sparkling mineral water
Fresh mint or basil
Directions
Tear up herbs into little pieces and put in the bottom of a tall glass. Squeeze the wedge into the glass and muddle (add fresh fruits at this step if desired). Add the raw pineapple vinegar and raw honey. Fill glass with ice, top with sparkling water. Stir and enjoy!
Quick Pickle Onion Recipe
Ingredients
Raw Pineapple vinegar (regular or infused with chili pepper)
1 medium sized sweet onion (thinly sliced)
1 brine packet (consists of Hawaiian Alae sea salt and coconut sugar)
Directions
Empty contents of bring packet into clean 16oz mason jar. Pack the jar full of onions, leaving as little air space as possible without crushing the onions. Fill the jar 75% full with raw apple cider vinegar. The water from the onions will be drawn out where it will be 100% full. Tighten the lid on the jar and gently shake to fully incorporate brine ingredients. Place in fridge for 12 hours.
Substitutions/ Suggestions:  Not a fan of onions? Try with thinly sliced cucumber, carrots, or cabbage
Use as a condiment on tacos, wraps, sandwiches, salad, etc.