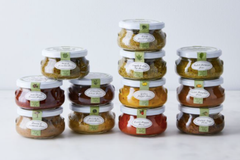 Looking for some inspiration on how to use our Bella Cucina pestos? See some suggested uses below!
This luscious blend of artichokes and lemon makes for the perfect dip. Mix 1 cup of pesto with ¼ cup mayonnaise and ½ cup grated Parmesan cheese. Bake until golden brown. Serve with crunchy crackers or warm pita bread.
For a quick meal, flatten chicken breast. Top with mixture of 2 tbsp. ricotta cheese and 1 tbsp. Bella Cucina sun dried tomato pesto. Roll up tightly. Top with breadcrumbs, drizzle with olive oil and bake at 375 degrees or until done.
Toss with angel hair pasta, caramelized onions and pine nuts or spoon over ricotta ravioli. Serve as a sauce with chicken, fish or veggies.
Try this easy pasta dish. Toss basil pesto with pasta, grilled chicken, sliced sun-dried tomatoes, and pine nuts. Top with grated cheese.
This versatile pesto can be used as a sauce, spread, or ingredient in other recipes. Mix 1 Tbsp. pesto with ¼ cup Greek yogurt for a delicious sauce for grilled lamb chops, chicken, or fish. Dollop mint and yogurt sauce on sliced, salted cucumber salad as a refreshing dressing.
Eat right out of the jar as a healthy dip for snacking or sandwich spread. Or try mixing ½ cup pesto with ½ lb. cooked pasta and 1 Tbsp of toasted pine nuts. Add roasted chicken or sautéed shrimp. Top with grated Parmesan cheese.
Toss ½ lb. pasta with 1 cup pesto, spread on bread, top with cheese and bake as a delicious antipasti, layer in lasagna, fill ravioli and serve with brown butter sauce.
Mix 1 jar pesto with 1 lb. cooked pasta. Sauté 8 oz. arugula with a pinch of salt in 2 Tbsp. olive oil and toss in pasta with ¼ cup toasted pine nuts. Top with freshly grated Parmesan cheese.