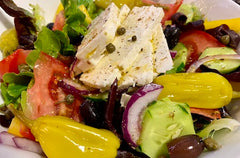 We love a good Greek Salad! Crunchy cucumbers, ripe tomatoes, feta cheese, and Kalamata olives are the heart and soul of this salad- but it's the dressing that really makes those zesty flavors burst in your mouth! This recipe is our version of this classic dish.  Enjoy!
For the Salad:
4 cups Lettuce - chopped (we use romaine, but you can try iceberg, or baby mixed greens, etc.)
¼ Bell Pepper – sliced into strips
1 Small Tomato - sliced into wedges
½ Cucumber – sliced into rounds or half rounds
Red Onion – thinly sliced (amount to taste)
Arrange the first five ingredients in a salad bowl or on individual salad plates. 
For the dressing:
½ teaspoon Dijon Mustard
1 Tablespoon Red Wine Vinegar
1 Tablespoon Fresh squeezed Lemon Juice
¼ teaspoon Garlic Powder
½ teaspoon Oregano
¼ cup Fresh Medium/Robust Intensity Extra Virgin Olive Oil
Sea Salt and freshly cracked Pepper to taste
Whisk first 5 ingredients together until just mixed, then add the olive oil in a slow steady stream while continuing to whisk until the salad dressing emulsifies (thickens) about 30 seconds and then add salt and pepper to taste.  Drizzle the dressing over salad (reserving a little to top off after the garnish is added - optional)
Garnish:
4 oz. Feta Cheese – sliced
4 Pepperoncini for garnish
6 Kalamata Olives
1 teaspoon capers
After dressing the salad, top the salad with your garnish of feta, pepperoncini, olives, and capers and enjoy!
Makes 2 entrée servings or 4 side salad servings
Check out our video on how to make it HERE.