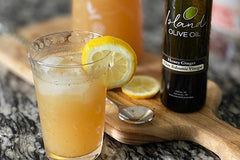 This spicy and refreshing lemonade is the perfect drink for a hot summer day, or as a refreshing detoxifying cooler.  For a festive poolside adult beverage try it spiked with a little rum, vodka, or tequila.
Ingredients:
1 ½ oz. Honey Ginger White Balsamic
2 oz. fresh squeezed lemon juice
1 oz. Agave or Honey
½ oz. fresh ginger or ginger juice (recommended-optional)
Dash of Cayenne Pepper
Seltzer water for topping up
Method:
Mix the Honey Ginger balsamic, lemon juice, agave, and ginger juice in a Highball or Collins glass.  Add in ice and top with seltzer water and a dash of cayenne. Stir and Enjoy!