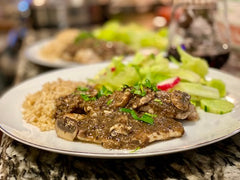 Our smothered cutlets in mushroom and truffle sauce taste like they've been simmering all day.  Richly flavored with savory umami goodness, alternatively try this sauce with chicken, over steak, or for a vegetarian option with rigatoni tossed in a creamy blend of Parmesan and ricotta.
Ingredients:
2 Tablespoons Fresh Extra Virgin Olive Oil*
4 ½" thick pork cutlets
¼ Cup sliced sweet onion
8 oz. white button or Cremini mushrooms sliced
1 jar Della Nonna Mushroom & Truffle Tapenade
Salt & Pepper (to taste)
1-2 Tablespoons mixed fresh herbs for garnish (a combination of thyme & parsley would be an excellent pairing)
Method:
To get started, prepare the pork cutlets with a light seasoning of salt and pepper on both sides and lightly tenderize by poking with a fork. Next, heat a large skillet over medium heat with 1 Tablespoon of the olive oil.  Once the oil begins to shimmer and the pan is hot add in the pork.  Cook until a light golden-brown color (1-2 minutes) and then flip over to brown the other side. (This is a good place to add in your second tablespoon of olive oil as needed to create the nice golden caramelization and prevent the pork from sticking.  As you continue to cook the pork, you can add in the mushrooms and onions in the pan and begin to sauté them around the pork.  Now is the magic part, you can pop open the jar of mushroom and truffle tapenade and simply smother the cutlets and mushrooms letting all of the flavors and juices mingle, turn the heat down to a gentle simmer and cook with a lid for about 15 minutes or until tender.  Garnish with fresh herbs and serve with a simple olive oil pasta, polenta, mashed potatoes or grain of choice to soak up all of that beautiful sauce!  Enjoy!
*We prefer a medium to robust intensity oil with this dish.  Try using our Mushroom & Sage Olive Oil for added mushroom intensity!