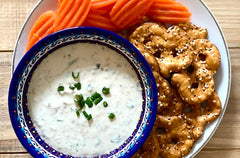 This dip is sweet, savory, and creamy all at the same time.  Pair it with your favorite veggies and chips, use it on a burger, as a fry sauce, as a topping for a baked potato, or as a dipping sauce for grilled fish, chicken, steak, veggies, and just about everything. 
Ingredients:
2 Tbsp Tropea's Onion Jam
1 Cup Greek Yogurt, Sour Cream, Labneh, (or any combination of these)
1 Tbsp minced green onion, chive, or parsley (or any combination of these)
1 Tablespoon Fresh lemon juice
Tabasco (to taste)
*Salt & Pepper (to taste) *We recommend Lawry's Seasoned Salt with this dip for a real zesty zing!
1-2 teaspoons Extra Virgin Olive Oil
Method:
In a small mixing bowl combine first four ingredients and mix well.  Add a few dashes of traditional Tabasco sauce and season with sea salt and freshly cracked pepper.  Drizzle in a teaspoon or two of fresh olive oil to add flavor texture and richness. Enjoy!
Variations:
This is a really easy dip to be creative with.  Try adding different herbs like thyme, or make it smoky and spicy with some chipotle! If you want to lighten things up, you can use low fat sour cream or yogurt and for something more decadent use your full fat dairy.