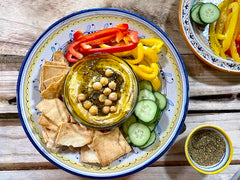 Makes 2 Cups
1 (15oz) can chickpeas, drained and rinsed (reserve 1 tbsp)
2 Tbsp Tahini
1 1/2 Tbsp lemon juice
1 garlic clove, minced
½  tsp kosher sea salt
¼ tsp ground cumin
1/8 tsp smoked paprika
¼ cup medium to robust intensity Extra Virgin Olive Oil
Harissa flavored olive oil, for drizzling
In a food processor, blend together first 7 ingredients with 3 Tbsp water until smooth.  Slowly add ¼ cup extra virgin olive oil until smooth, creamy, and well blended.  Spoon into a shallow serving bowl and garnish with a drizzle of Harissa Olive Oil, reserved garbanzo beans, and a sprinkle of Za'atar.  Serve with warm pita, chips, or sliced cucumbers or bell peppers.
About this recipe:
Our classic hummus recipe is a simple yet perfectly balanced, flavorful dip you can make in a matter of minutes at home. For this recipe we use traditional Middle Eastern spices to give the dip its warm, earthy, flavor and finish it with our spicy Harissa Olive Oil and Za'atar blend of spices which is a fragrant blend of dried thyme, oregano, toasty sesame seeds, and tart sumac.
This recipe is a perfect jumping off point to customize your own recipe to create endless variations:
-Instead of Garbanzo beans try it with White beans or Gigante beans for a mild taste and super creamy consistency, finish with an early harvest EVOO and a spoonful of olive tapenade.
-To give it an Indian spin, substitute the cumin and smoked paprika/Harissa oil and za'atar, try using Curry powder in the mix and finish it with a drizzle of our Curry oil topped with a sprinkle of fried Curry leaves or Indian spicy snack mix.
-If you want something fresh and flavorful, blend in a diced cooked beet for great color and flavor and top it with lemon olive oil and crumbled feta cheese.
-Blend in some roasted red peppers and top our garlic olive oil and toasted pine nuts.