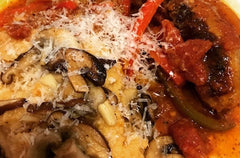 Easy, delicious comfort food…the way Nonna used to make!
Serves 4
Ingredients
1 package (5 links) Italian Sausage (sweet or spicy)
½ yellow onion, sliced
½ green bell pepper
½ red bell pepper
1 tsp crushed garlic
5 Tbsp extra virgin olive oil divided (plus extra for finishing)
2Tbsp butter (or butter flavored evoo)
1 jar prepared marinara sauce
1 tsp dried Italian spice blend (ex. oregano, basil, marjoram, thyme)
2 cups La Favorita instant polenta (Porcini or Vegetable)
8 cups water, low sodium chicken or vegetable stock
1 pint mixed mushrooms sliced (Portobello, shiitake, cremini, white button)
¾ cup fresh grated Parmigiano Reggiano (plus more for finishing)
¼ cup fresh chopped Italian flat leaf parsley (for a fresh garnish)
Salt and Pepper to taste
Instructions
Drizzle 3 Tablespoons extra virgin olive oil over medium/medium-high heat in a large Dutch oven. Once oil is hot, add sausage and sear on all sides till nicely browned in color, 1-2 minutes per side depending on how hot your pot is.  Remove from pan and set aside, (note: it is ok if they aren't fully cooked yet in the middle). Turn down heat to medium/medium-low add 1 more Tablespoon of oil to the pot if needed and add onions, peppers, garlic and spices and a little salt and fresh cracked pepper or chili flakes if you'd like here.  Sauté until slightly tender and all the yummy brown bits on the bottom of the pot (from the sausage) get mixed back in to help add depth of flavor to the dish. You can deglaze with a splash of stock or a little wine at this point to help dislodge all the flavor in the pot but it's not necessary. This should take about 5 minutes. 
 Next, add your marinara and sausage back in, give it a nice stir.  Let the pot come to a simmer, and turn down to a low/medium-low heat (just barely bubbling) so it can cook slowly, and so the flavors all have time to mingle.  This will also help to keep your sausage tender and prevent your onions and bell peppers from completely disintegrating into the sauce. Keep the pot partially covered, and continue to cook for about 30 minutes.
Now you can make the polenta!
Polenta Instructions
Bring 8 cups of water or stock and a pinch or two of salt to a boil in a large saucepan. Stirring constantly, add in the polenta. Cook, still stirring constantly, until the polenta thickens, about 3 minutes. Remove from heat and stir in the Parmesan and butter or olive oil. Cover and set aside until the butter melts, about 2 minutes. Stir again before serving
*trick: I add a splash of milk or cream to loosen it up if it gets to stiff-just like mashed potatoes!
Once the Polenta is done you can sauté the mushrooms in a small sauté pan over medium heat with a drizzle of olive oil, and maybe a tablespoon of butter if you like for extra flavor and richness.  If you love garlic, add a crushed clove of that too. Don't overcook the mushrooms here.  It's ok to have a little texture left in them because it adds to the overall feel of the dish. 
Now that everything is done, go ahead and plate up!
Stir the polenta and spoon onto plate, top with mushrooms. Next add your sauce and peppers on the side with a nice juicy sausage. Finish with some chopped Italian parsley and grated parmesan cheese.