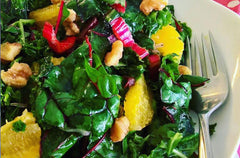 Preparation time: 20 minutes 
Yields 6-8 cups
A delicious source of calcium and folic acid, this beautiful salad is a great way to happily introduce kale and chard to your friends and family. "Massaging" the dressing into the kale and chard tenderizes the greens and brings out their brilliant color. You will be amazed at how much this salad shrinks after the dressing is added! This salad takes some effort, so you may want to enlist help with the de-leafing and massaging, (Kids think this is fun!) This salad keeps for five days in the refrigerator.
Basic Salad:
1 bunch kale (curly or lacinato aka dinosaur kale). Do NOT use Red Russian Kale or "baby" kale for this
1 bunch chard (the kind with red and/or yellow stems, if available)
1/4 small purple onion, OR 1 shallot sliced paper-thin (use a mandolin if available)
Strip the leaves off the stem by holding the stem end and ripping the leaves off down each side. Discard kale stems. Save chard stems. Place leaves in a large bowl. Thoroughly wash kale and chard
Tear leaves into manageable pieces. Place leaves in a salad spinner or Spin 'N Stor Bag. Spin to remove excess water from leaves.
Place spun leaves in a large bowl. Thinly-slice onion/shallot into the same bowl.
Make vinaigrette (your choice, see below for ideas) by combining vinaigrette ingredients in a small jar, screwing the lid on securely, and shaking vigorously. Pour half of the vinaigrette over what's in the bowl.
Put on disposable gloves. Massage (knead and squeeze) the leaves and onion so they become more tender and absorb the vinaigrette. This may take a few minutes. Greens may "weep" during massaging, and they will shrink A LOT. Keep remaining vinaigrette in the jar and refrigerate for future use.
Finely dice the chard stems and add to the bowl. Add any optional ingredients, toss gently to coat with vinaigrette, and enjoy!
 From the heart and imagination of Rebecca Woodland, The Blonde Vegetarian.               https://rebeccawoodland.net
Optional Add-ins: (select any or all ingredients from one column)
Mediterranean version

       Asian version  

Orange-Mint version

red, orange,yellow bell pepper

pickled carrot and daikon

2 oranges, supremed

radish, sliced paper-thin

cilantro (Chinese parsley)

mint leaves, torn

pine nuts or walnut pieces

basil, chiffonaded or torn

grape tomatoes

slivered almonds

walnut pieces

Mediterranean Vinaigrette

Asian Vinaigrette

  Sweet Vinaigrette

I/2 c. Tuscan herb olive oil

1/2 c. toasted sesame oil

 1/2 c. blood orange olive oil

1/3 c. red wine vinegar

      1/3 c. hone-gingery balsamic

1/3 c. peach balsamic vinegar

1/2 tsp. sea salt

1 tsp. tamari       

  1/2 tsp. sea salt