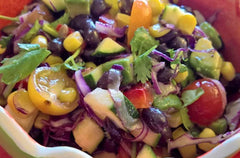 Prep time: 10-15 Minutes
Serves 6-8
This hearty, festive salad is a feast for the eyes and the palate. Always use fresh-squeezed lime juice! (The bottled stuff will ruin this.) Ingredient amounts and proportions can be adjusted to your personal taste. This is a great make-ahead salad for potlucks and picnics.
2 Tbsp. Cilantro-Roasted Onion Olive Oil
2 Tbsp. Jalapeno-White Balsamic Vinegar
1 (15 ounce) can black beans, drained and well-rinsed (1 1/2 cups cooked beans)
1 small can corn kernels, drained and rinsed (or 1 cup fresh or frozen corn)
1-2 c. red cabbage, finely shredded
1 large ripe tomato, diced (or 12 oz. basket of grape tomatoes, halved)
1/4 c. fresh cilantro (leaves and stems), chopped
1 red or yellow bell pepper, diced
1 Tbsp. red onion, chopped (optional)
1 avocado, diced (optional)
1 medium zucchini, diced (optional)
2-3 TBSP fresh lime juice
sea salt to taste
Drain and rinse the corn and beans. Shred cabbage. Dice tomatoes and zucchini. Chop cilantro.
Mix together in large bowl. Add optional ingredients.
Season with salt. Toss with lime juice. Drizzle with Cilantro-Roasted Onion olive oil and Jalapeno-White Balsamic vinegar. Gently mix.
From the heart and imagination of Rebecca Woodland, The Blonde Vegetarian.                   https://rebeccawoodland.net