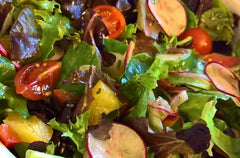 Prep Time: 10 Minutes
Serves 4-8
Literally "perfect salad", this salad starts with a variety of fresh spring lettuces and greens and is dressed with extra virgin olive oil and good vinegars. (In Italy there is no such thing as "Italian Dressing".)
 Ingrediants:
6-8 cups fresh leafy lettuces or other tender greens

1/4 small red onion (or 1 shallot), thinly-sliced

1 red radish, thinly sliced

1/2 medium carrot, thinly-sliced

1   Japanese cucumber, unpeeled, cut into 1/4' slices

2   ripe tomatoes (Roma preferred), diced or sliced

1 bell pepper (red, yellow, or orange, NOT green)

1  small fennel bulb (optional)

2  Tbsp. Traditional Dark Balsamic Vinegar

2 Tbsp. Red Wine Vinegar or apple cider vinegar

1/4 cup Tuscan Herb Olive Oil

1 Tbsp. Dried oregano or Italian Herb Dipping Blend 

freshly cracked black pepper

½ tsp. sea salt

 
Directions
Thoroughly wash all vegetable and greens. Dry them thoroughly.
Pour lettuces and greens into a large bowl. Tear (DO NOT CUT!) into reasonable bite-size pieces if leaves are large.
Using a mandolin (such as a Kyocera ceramic slicer) or sharp knife, thinly slice the carrot, fennel, onion and radish into the bowl. Sprinkle salt over the onion and radish.
Slice cucumber and tomatoes. Add to bowl.
Sprinkle dried Italian herbs over everything. At least 5 minutes before serving, drizzle olive oil and vinegars over everything. Sprinkle with salt and pepper and toss gently with gloved hands.
Let dressed salad rest 5-10 minutes before serving.
Variations: Add arugula, fresh thyme or marjoram, or whatever raw vegetables and herbs you fancy. If you can find watermelon radishes, these are a beautiful addition when sliced very thin.
From the heart and imagination of Rebecca Woodland, The Blonde Vegetarian.               https://rebeccawoodland.net