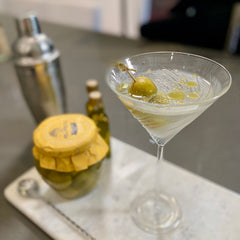 Lemon & Rosemary Martini
The lemon and rosemary oil droplets gives this classic cocktail a modern twist and a sultry mouthfeel!
2-1/2 oz. vodka
1 bar spoon- 1/4 oz olive juice (depending on how dirty you like it)
1/2 dropperful of lemon infused olive oil
1/2 dropperful of rosemary infused olive oil
Lemon Stuffed Olives (Currently only available in store - not online)*
*If you can't get lemon stuffed olives you can garnish with green olives of your choice and a lemon twist or rosemary sprig
Ice 
Fill a martini glass with ice or have chilled in the freezer. Fill a cocktail shaker 3/4 full of ice. Add vodka and olive juice.  Stir for at least 30 seconds or shake lightly. Dump ice if using it to chill the glass. Strain martini into the martini glass.  Add drops of lemon and rosemary olive oil to float on top. Garnish with a rosemary sprig and/or a lemon stuffed olive.