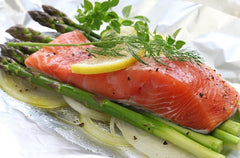 Baked Dill Salmon and Asparagus in Foil
Prep Time: 10 minutes
Cook Time: 20 minutes
Yield: 4 servings
 
Ingredients
4 (6 oz) skinless salmon fillets
1 lb asparagus, trim tough ends
1 sweet yellow onion, sliced
3 Tbsp Dill Flavored Olive Oil
2 cloves garlic, minced
Salt and freshly ground black pepper
1 lemon thinly sliced
Fresh dill, or chopped fresh thyme, or parsley

Directions:
Preheat oven to 400 degrees. Cut four sheets of aluminum foil about 14-inch long. Layer the sliced onion in 4 equal portions along the center of each length of foil. Divide asparagus into 4 equal portions (about 8 spears per foil packet) and layer over the onions. In a small bowl stir together wild dill EVOO with garlic. Drizzle half of the oil mixture evenly over portion of onions and asparagus then sprinkle with salt and pepper. Prepare salmon by seasoning the bottom of each fillet with salt and pepper. Layer fillets over vegetables. Drizzle top of each salmon fillet with the remaining olive oil mixture and season the top with salt and pepper to taste. Top each with about 1 sprig of dill, thyme, parsley or any combination of these fresh herbs and 2 lemon slices (if you choose fresh thyme use about 3/4 tsp per packet if using parsley use 1 1/2 tsp as it is much milder). Wrap sides of foil inward over salmon then fold in top and bottom of foil to enclose.

Place foil pouches in a single layer on a baking sheet. Bake in preheated oven until salmon is cooked through, about 25 – 30 minutes. Unwrap and serve warm. Enjoy!