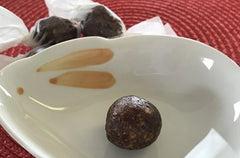 Ingredients
1 1/2 cup Roasted Almond
2/3 cup Dry Cranberry 
12 pitted Dates
1 Tablespoon Black Currant Balsamic 
Directions
Grind Almonds fine in a food processor.
Add Cranberries and grind further, add pitted Dates and grind till well combined.  Move the combined ingredients into a plastic bag along with a tablespoon balsamic vinegar and knead well till well mixed. 
Use plastic wrap to make small balls and candy wrap with waxed paper.  
Yield: 40-50 ½" balls
Vegan* Gluten Free*
Recipe Courtesy of Junko Geil