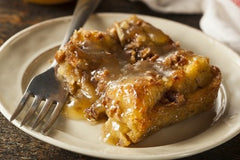 A NOTE FROM EMILY
This is a great way to use up stale bread.  You can make this in advance and let it soak overnight.  If you're not into raisins, try cranberries, chopped walnuts, or pecan pieces.  If you don't have butter infused olive oil, any mild, creamy single varietal extra virgin olive oil will do. Serves 4-6
Bread Pudding:
4 cups cubed dry bread (about 8 slices)
2 apples, peeled, cored and diced
½ c. golden raisins
4 eggs
1 c. whole milk
½ c. brown sugar
1 tsp sea salt
Maple Caramel Sauce:
1 c. granulated sugar
2 Tbsp Maple Dark Balsamic Vinegar
For the pudding:  
In an 8 in round pie plate or 8x8 baking pan, evenly distribute the cubed bread, apples and raisins.
In a mixing bowl whisk the eggs, milk, and olive oil with the brown sugar and salt.  Pour this over the bread making sure all bread is covered.  Tilt the pan slightly and press down any pieces poking out to keep them submerged.  Cover tightly with plastic wrap and let sit in the fridge for at least 2 hours or up to overnight.
Preheat oven to 350°F.  Remove bread pudding from fridge, remove plastic wrap and allow to come closer to room temperature before placing in the oven.  Bake, uncovered, for 35 minutes or until toothpick inserted comes out clean.  Remove and let stand.
Meanwhile, prepare the maple caramel sauce.  In a deep saucepan, dissolve sugar in ¼ c. of water over medium heat.  Pour in balsamic and bring to a rolling boil.  DO NOT STIR!  Allow the sauce to caramelize and darken, about 2-3 minutes.  As it boils, you will smell a delightful nuttiness coming from it. Remove from the heat, pour into a serving jug and enjoy it poured over your warm bread pudding.
*Recipe excerpted from The Olive Oil and Vinegar Lover's Cookbook by Emily Lycopolus, 2015.